The Komatsu Awazu manufacturing plant in Ishikawa Prefecture, Japan is innovative in many ways, but some of its most noteworthy improvements tie directly to our company's goals to work sustainably.
Check out how Komatsu is contributing to the local forestry industry while drastically reducing energy consumption and leveraging natural resources.
Mount Haku, or "White Mountain" towers over Ishikawa Prefecture in Japan – home to Komatsu's innovative Awazu manufacturing plant. Trees from the many wooded areas around Mount Haku provide fuel for the plant's biomass power generation system. Komatsu works with Ishikawa's KAGA Forest Association to make use of unused timber produced by forest thinning necessary to help prevent flood and wildlife damage.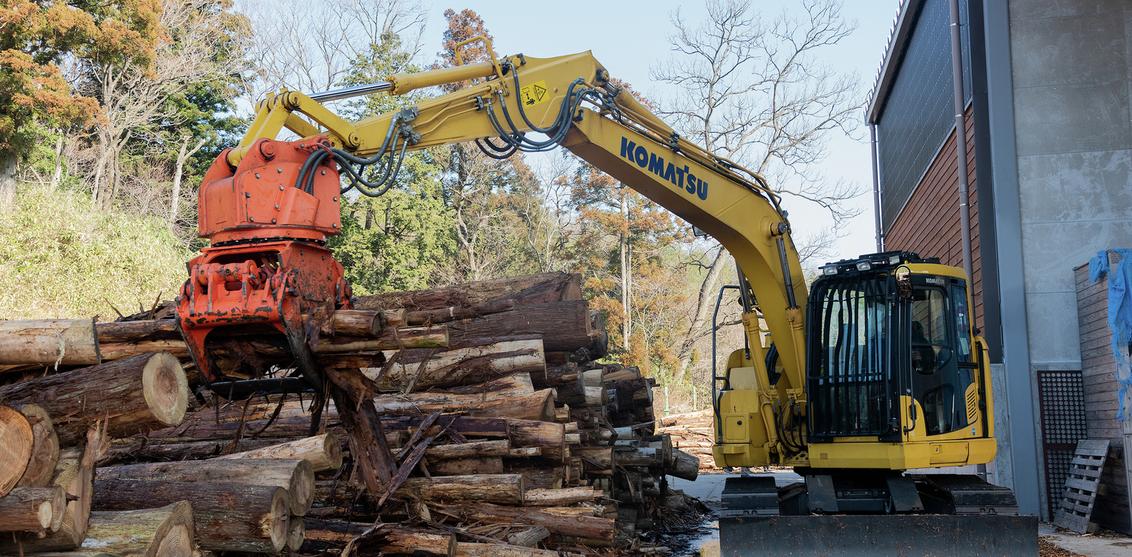 A Komatsu PC138US hydraulic excavator places timber from surrounding forests into a Tagami Ex drum chipper at the KAGA Forest Association lumberyard in Ishikawa Prefecture in Japan. Since entering into an agreement with Komatsu in 2014 to supply necessary woodchip fuel for Awazu plant's biomass cogeneration system, KAGA has developed a full woodchip production business that helps support the local forestry industry.
A Komatsu FH40 forklift dumps freshly cut woodchips into a trailer for transport to Awazu plant's Woody Biomass Power Generation facility. The woodchips are burned to produce high-pressure steam that generates electricity, as well as hot and cold water used in heating and cooling the plant.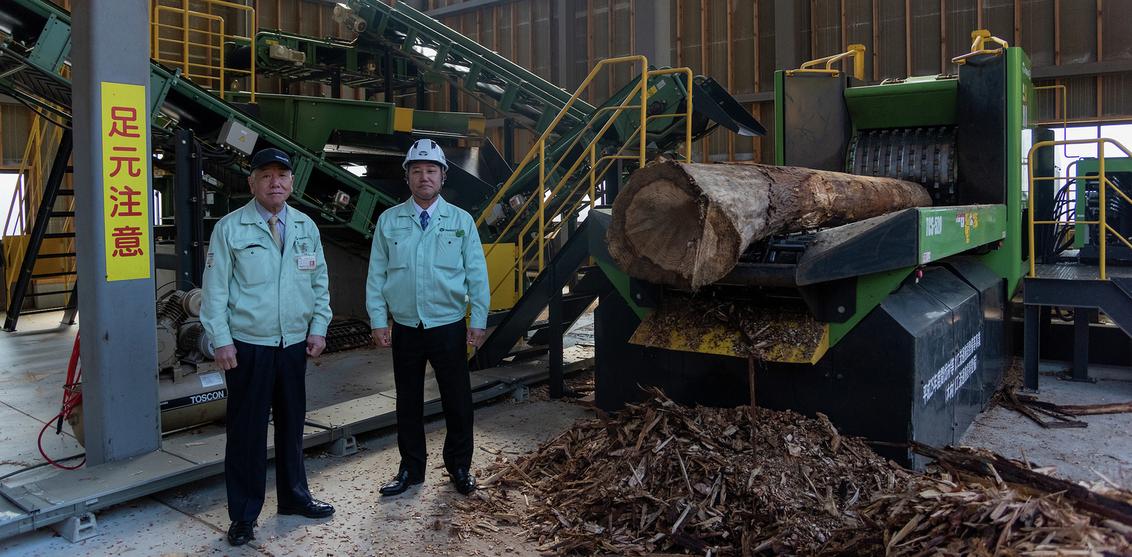 Mr. Yoshimichi Tagami, chairman (left) and Mr. Yoshihiro Tagami, president (right) of Tagami Ex Co Ltd stand near an idle TCS-520 drum chipper at the KAGA Forest Association lumberyard. The association worked with Tagami Ex – a Komatsu business partner- to develop the machine, which provides a steady supply (7,000 tons per year) of woodchips.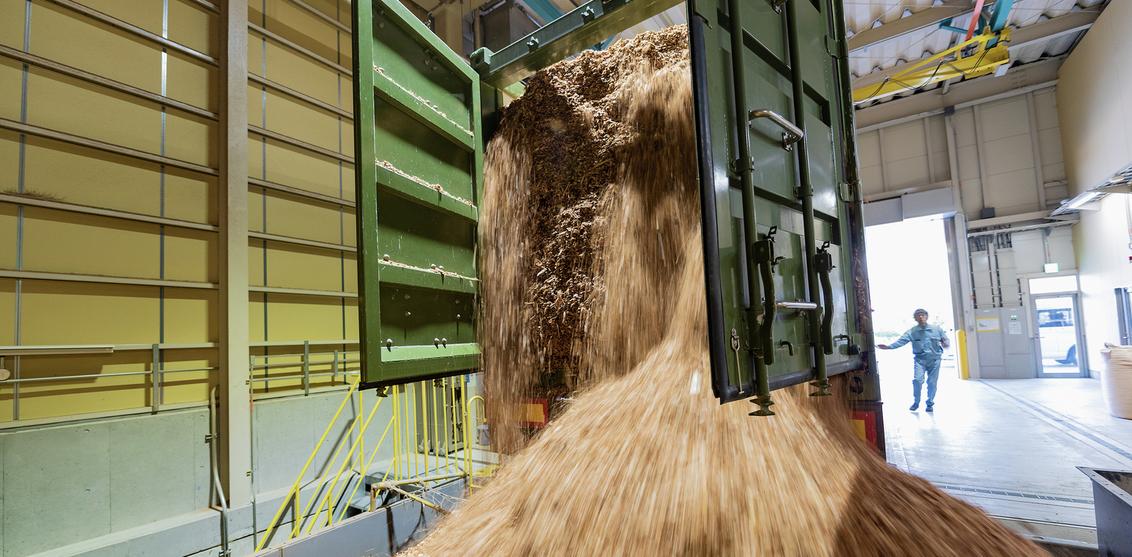 A Komatsu employee empties a shipment of woodchips into the burner holding bin at Awazu plant's Woody Biomass Power Generation Facility. The chips will be burned to produce steam for the plant's generators as part of Komatsu's effort to reduce energy dependence and enhance sustainability.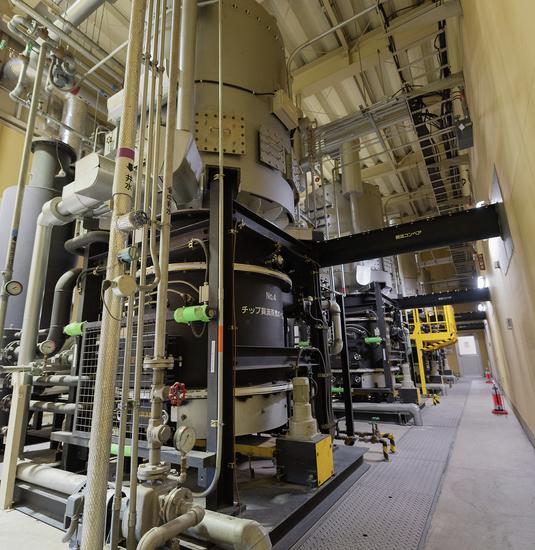 Steam boilers at the Woody Biomass Power Generation Facility burn woodchips to create compressed air and energy for Komatsu's Awazu plant.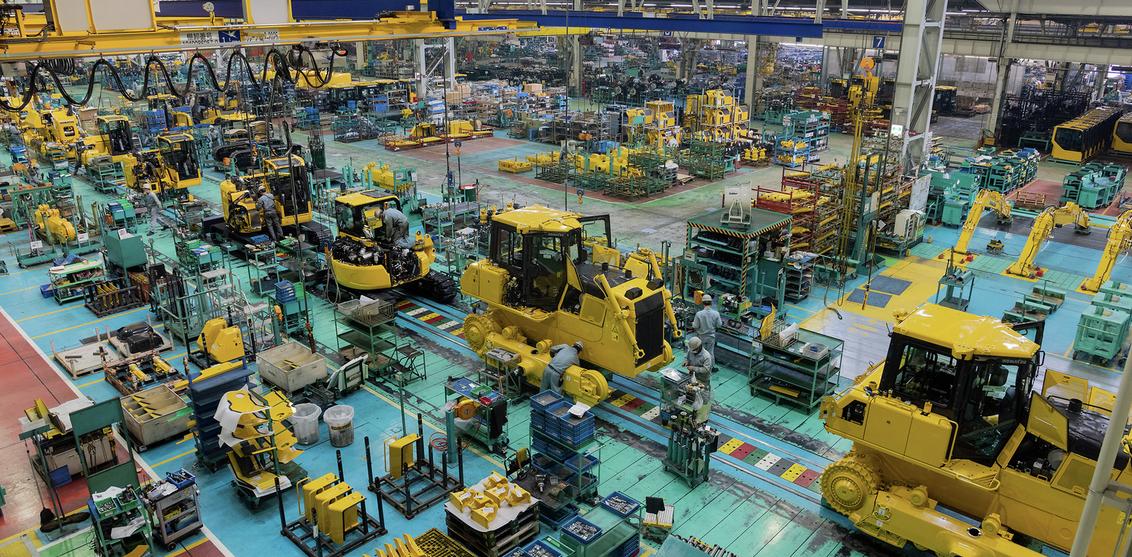 Komatsu employees work on the manufacturing floor at Awazu plant, producing dozers, hydraulic excavators, wheel loaders and motor graders. The plant is powered, heated and cooled using energy produced at Komatsu's Woody Biomass Power Generation Facility. The plant's overhead cranes also contribute to the effort, generating energy (converted into electricity) with every downward movement.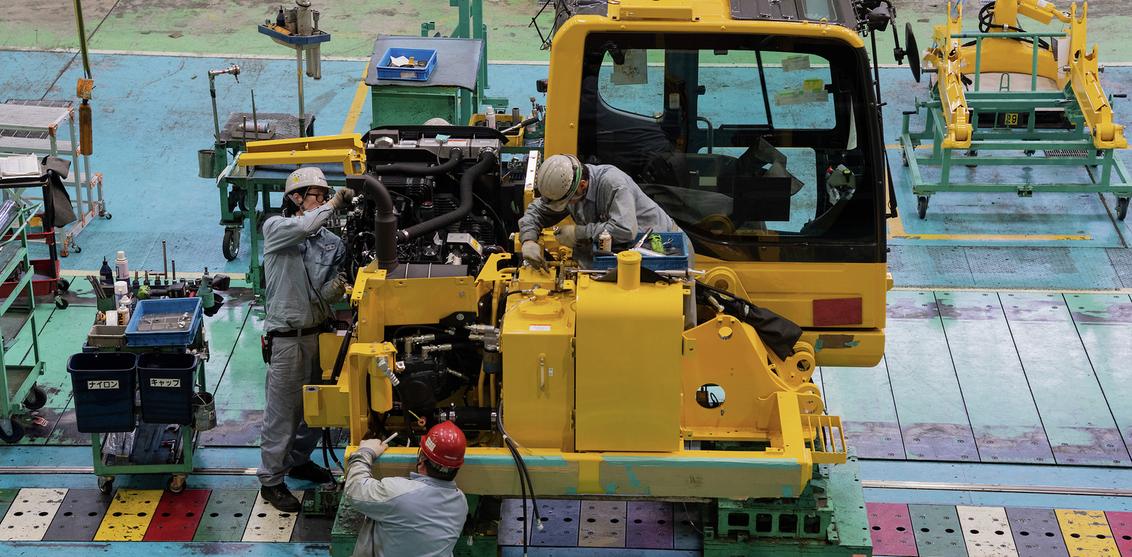 Komatsu employees assemble a PC series hydraulic excavator on the floor at the company's Awazu plant. The plant's innovative design involves a level floor that slowly moves with the workers to reduce time spent moving around the work area. Under the floor is the plant's heating and cooling system, which keeps temperatures steady year-round using hot and cold water (some of which comes from underground stores from the mountain range of Mount Haku) and energy generated by burning woodchips in steam boilers.
Solar panels on the roof of buildings at Komatsu's Awazu manufacturing plant collect energy to produce electricity. By implementing a number of energy-saving sustainability efforts in recent years, Komatsu has reduced energy consumption at Awazu by 90 percent.