Early career exploration is a standard part of the learning experience for many students in grades 6-12. Each year Komatsu has employees that take time away from their desks and machines to spend time inspiring students that participate in Junior Achievement programs.
Through Junior Achievement programs like JA in Day, JA BizTown and JA Finance Park, students gain a greater understanding about what it takes to success in a global economy. To help them gain real-world experience throughout the process, our employees volunteer in a variety of activities that support these students develop workforce readiness, entrepreneurship and financial literacy.
Junior Achievement programs
Junior Achievement is an organization dedicated to giving students the knowledge and skills necessary for future economic success and to inspire and prepare them to succeed in a global economy. Reaching nearly 4.9 million students per year in 212,101 classrooms and after-school locations, JA programs are taught by volunteers throughout the United States. The organization has a variety of programs in three core content areas: work readiness, entrepreneurship and financial literacy.
JA programs prepare students for the real world by showing them how to generate wealth and effectively manage it, how to create jobs that make their communities more robust, and how to apply entrepreneurial thinking to the workplace. Students put the lessons into action and learn the value of contributing to their communities.
For JA in a Day, volunteers teach all the lessons of Junior Achievement's elementary school programs in an intensive one-day program. Students learn about the various aspects of financial literacy, work readiness and entrepreneurship, such as learning how money moves through a community, how jobs are created, and how to generate tax proceeds that pay for schools, parks, and streets.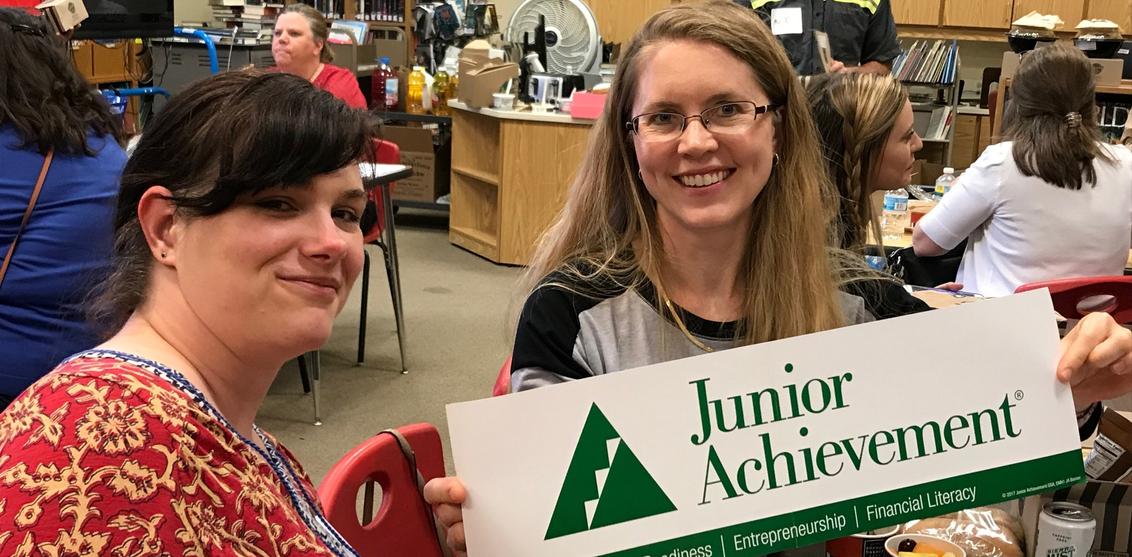 During Junior Achievement programs, our employees volunteer their time to help teach students financial literacy, as well as about our safety culture, the type of equipment we manufacture and the education requirements for the various employment opportunities we offer.
JA BizTown combines in-class learning with a day-long visit to a simulated town, allowing elementary students to operate banks, manage restaurants, write checks and vote for mayor. The program connects what students learn in the classroom with the real world. As students enter a "mini-city" as employees of a business, Komatsu is one of the companies represented, along with other business participants. The goals of the day emphasize teamwork and collaboration and highlight how each business has an impact on how a successful society functions.
High school students can build a foundation upon which they can make intelligent financial decisions, including decisions related to income, expenses, savings, and credit, through JA Finance Park. It is comprised of 13 teacher-taught lessons and culminates in a hands-on budgeting simulation that is implemented at a JA Finance Park facility, mobile unit or virtual site.
Longview inspires next-generation leaders
Employees from our Longview, Texas, U.S., facility participate in JA in a Day with their partner school, Ware Elementary, through the Junior Achievement of East Texas Inc. JA of East Texas serves students in a 9-county area, reaching more than 7,950 students locally.
Each year employees in Longview visit Ware Elementary in the fall and again in spring, teaching the JA curriculum. The experience proves to be beneficial for everyone and keeps employees volunteering again and again. "It was very rewarding working with the students and seeing them so interested in what we were teaching them. You can't help but love those kids," shared Senior HR Assistant Connie Abernathy.
HR Generalist Linda Ayres said, "The curriculum ties to the education they will need to learn job skills so they can be successful in their career choices later in life." Students learn these lessons through curriculum tailored for their grade level.
Komatsu Longview Operations joined other local businesses participating in an eighth grade Career Inspire event hosted by Junior Achievement, Globe Scholars and the Longview Economic Development Corp.
During the annual JA in a Day fall event for second and third graders, students learned practical information about businesses and the many jobs those businesses offer in a community. They explored production methods through a simulation game, learned about taxes, decision-making and how money flows in an economy.
"Longview employees volunteered their time and talent in support of 197 fourth and fifth grade students attending Ware Elementary, our partner school," said Benefits and Wellness Specialist – Wheel Loaders, Brenda Hunt. "These students enjoyed hands-on training on the subjects of 'Our Region' and 'Our Nation,' related to personal finance, supply chain, entrepreneurship, and much more. These concepts result in a message that inspires and empowers students to believe in themselves and that they can truly make a difference in the world."
Through 'Our Region,' fourth graders learn about a typical community and the people who live and work there. 'Our Nation' introduces fifth graders to various careers they may choose to pursue and the need for them to be entrepreneurial in their thinking.
Milwaukee motivates future entrepreneurs
Employees from our Milwaukee, Wisconsin, U.S., facilities regularly volunteer through the Junior Achievement of Wisconsin at JA's BizTown facility, which combines in-class learning with a day-long visit to a simulated town. Morgandale students learn to operate banks, manage restaurants, oversee manufacturing, run a newspaper, manage finances and participate in the civic process by voting for mayor. Our foundation is a proud sponsor of the JA Biz Town facility in Milwaukee, making our company one of the many businesses the students get to operate for the day.
"We're honored and proud to have such a long-standing partnership with both Junior Achievement and Morgandale School," said Manager-Social Responsibility Cathy Stagmer. She added, "We've worked to build a year-round connection through this and other JA volunteer opportunities with Morgandale. This gives the students the chance to meet more employees from Komatsu, showcasing a wide variety of careers in their own backyard. When the students and their families drive past our facility, they can relate to what we do within our facility, talk about the people they've met and perhaps, aspire to becoming a Komatsu employee one day."
Morgandale students came assigned to a role at one of the many businesses in the town this year. Whether the student was the CEO or a sales manager, each student learned about earning a paycheck, saving and spending, all while learning what it takes for a community to thrive.
"We love having JA in a Day here at Morgandale because our volunteers from Komatsu Mining Corp. are so awesome," said Morgandale Principal Tina Food. "Many have been here for several years and they make connections with the kids. The kids love to have 'real people' come in and teach them lessons about work, money and life."
This past May marked the 11th year employees from Milwaukee worked alongside Morgandale students. Nearly 500 students in K5-5th grade learned from a dynamic group of Komatsu employees, gaining awareness about the careers that exist in their backyard. They also learned valuable lessons about how they fit into our community, region and the world.
Employee engagement
Cathy Stagmer also said employees look forward to coming back each year, just as much as the students. "It's great to develop a long-term connection with the students, helping them learn more each year about the different careers and opportunities that exist right in their own community."
"I remember what it felt like to be a student in a JA classroom, said Process Support Specialist – Logistics Stephanie Picchiottino. "It was a good feeling to give back the positive memories that JA had given me. In some ways it feels like you are expanding the world for them.
"JA in a Day gives students the opportunity to think outside the box in applying JA concepts to their external interests. It is a catalyst to help them recognize and appreciate what's happening outside their classroom."
The interaction with the students can be eye-opening for employees who might not normally interact with elementary school age children.
"The JA program allows us to teach the students something useful in the real world and I had a chance to talk a bit about engineering with students who still have a lot of career choices in front of them," said Engineer II-Advanced Automation Keshad Malegam.
"It was completely apparent that the kids were learning what they may want to do when they grow up or what they know they don't want to do," Senior Manager of Manufacturing Admin Stephan Hodgson said. "There was a student in my group that was the CFO for the day, and you could tell he is going to make it into high-level management when he grows up. On the other hand, there were children who didn't like their jobs at all. It was a good opportunity to coach them into pursuing their education and being successful, so they don't have to do a job like that when they grow up."
Similarly, Sr. Manager – Advanced Automation Matt Reiland said, "It's important to me to connect with young students to make sure they know what is like to have a job after school, what they should be looking for, how much school it will entail and to be someone they can ask any question of that is outside of their normal teachers and parents they interface to."
A foundation for our future
Junior Achievement programs inspire today's youth to become responsible, respectful professionals in the workplace and society. Komatsu is proud to support their programs, including JA in a Day, JA BizTown, and JA Finance Park, by investing financially and with employee volunteer support. Employees at various locations throughout the United States have volunteered their time to teach JA's curriculum to young students at local partner schools throughout the year.
By educating today's youth about financial responsibility, the power of entrepreneurship, and how our global economy works we help build a strong knowledgeable foundation for the future. Investing time and resources into organizations like Junior Achievement is part of Komatsu's focus on developing the workforce of tomorrow.
Students may be introduced to a career they never considered, or they may gain a greater understanding of what it takes to be a successful leader. This early exploration helps foster a greater enthusiasm for the lessons that will lead a student to their career of choice in the future. Students develop a passion for their career of choice and ultimately become dedicated and enthusiastic members of the workforce.