Removing landmines and redeveloping villages in Cambodia
Since 2008, Komatsu has been supporting a unique community growth and development project undertaken by the Japan Mine Action Service (JMAS) in cooperation with the Cambodian Mine Action Center (CMAC) to remove these landmines and redevelop villages where families can live, work and play without fear
By donating special equipment designed by Komatsu engineers to safely remove anti-personnel landmines, we have supported the clearing of about 1,400 mines spread across more than 1,700 hectares of land.
"Before the landmines were cleared," said one resident in Battambang Province, "it was like a forest. All the people were scared to come into the forest. Now the land is safe for people to live," she said. The woman lives with her husband on a plot of land in one of the redeveloped areas. They farm the land where they built their own home, growing mangos and other food.
As a valued community partner, we work with CMAC and JMAS to respond to local governments' requests to clear areas of known landmine activity. Using a Komatsu bulldozer to cut brush and a specially designed demining machine, these teams clear areas for residents to live and work.
"We developed these machines special for this purpose. Not for sale, but for society" - Atsushi Nagira, General Manager, Demining and Reconstruction Project, Construction Equipment Marketing Division, Komatsu Ltd.
Komatsu first started designing the demining machine after the terrorist attack in the United States on Sept. 11, 2001. Eager to help unite as global citizens and provide a service to areas in need, we tested the first machine in Afghanistan and later sold it to a local NGO (non-governmental organization) for use there. The machines are modified versions of Komatsu bulldozers, featuring bulletproof, soundproof operator cabins that keep safe those working to clear the fields. The deminers are painted white, one of the official colors of the United Nations.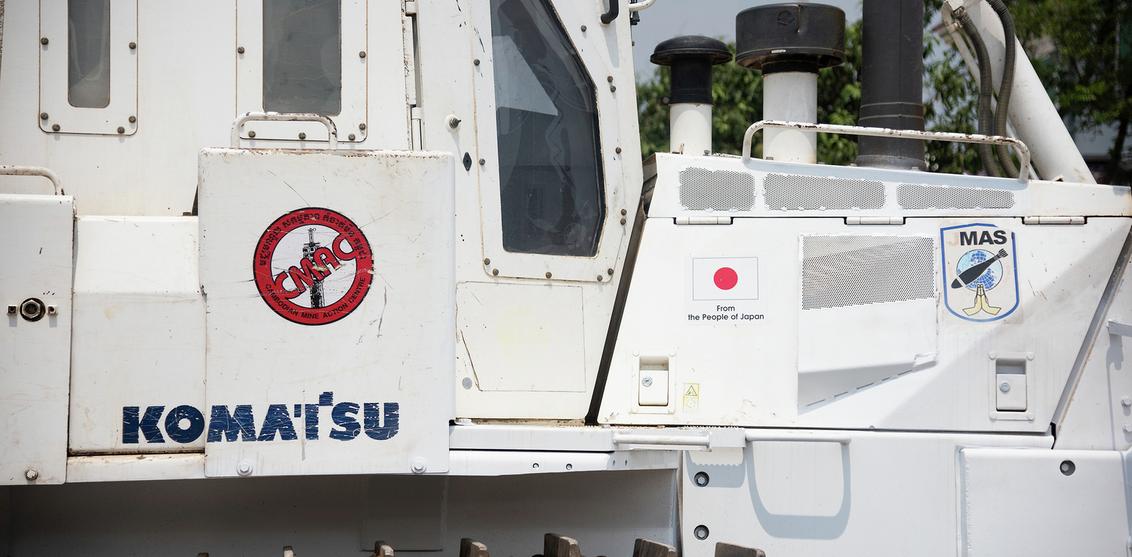 Komatsu joins "Project for Developing a Safe Village"
In 2008, Komatsu joined JMAS in their efforts to build upon CMAC's ongoing manual efforts to remove landmines in Cambodia. The "Project for Developing a Safe Village" in Battambang District includes landmine removal and community reconstruction in areas suffering from the impacts of anti-personnel landmines.
Komatsu provided free of charge a demining machine for removing landmines, and related equipment including a hydraulic excavator and bulldozer for earth excavation and ground leveling work. Today, there are four Komatsu demining machines in Cambodia. Residents who are part of CMAC operate the equipment.
When asked what it's like to drive the deminer and detonate deadly landmines, one operator said "this is heavy duty equipment, so it's no problem. We feel very safe."
According to Nagira, "Not only the people, but also our equipment is very tough."
Since 2006, the area has seen an 82 percent decrease in landmine accidents. During a March visit to the Battambang Province villages where we are providing aid and partnering with local communities, peace and happiness radiated on residents' faces in areas where the land has been cleared.
Since 2006, the Battambang Province in Cambodia has seen an 82 percent decrease in landmine accidents.
"We are so happy and so grateful that the mines are cleared," said the farmer.
Working together to redevelop communities in Cambodia
Komatsu has also done much more to empower the villagers than just remove active landmines. Together with these government organizations, community partners and local residents, we are building communities: clearing the land of overgrowth, building or rebuilding roads, and constructing primary schools.
"There is a great need here," said Nagira. "Many schools are needed and the work must continue after the schools, too. Employing people and giving them places to live." We have now helped redevelop 10 villages in areas previously riddled with active landmines.
Komatsu equipment was used to build seven new local roads, connecting villages that previously were difficult if not impossible to access during monsoon season. We provided a bridge for one village particularly cut off during monsoon season, and helped build 46 ponds for the villages, which previously had no water supply. And eight new primary schools now serve nearly 600 local students.
New schools offer students a safe place to learn and thrive
"Most students want to go to school and now they can," said a teacher at Chror Narb Phes Komatsu Primary School, built in 2011. "Komatsu's vision and leadership have helped make this project a reality."
Young children in these villages now aspire to become doctors, nurses and teachers because they have a place to learn and thrive.
Older local schools have dirt floors and tin roofs that make monsoon rains incredibly loud. Some of these schools have to close during the rainiest days as students and teachers cannot hear one another and the ground floods.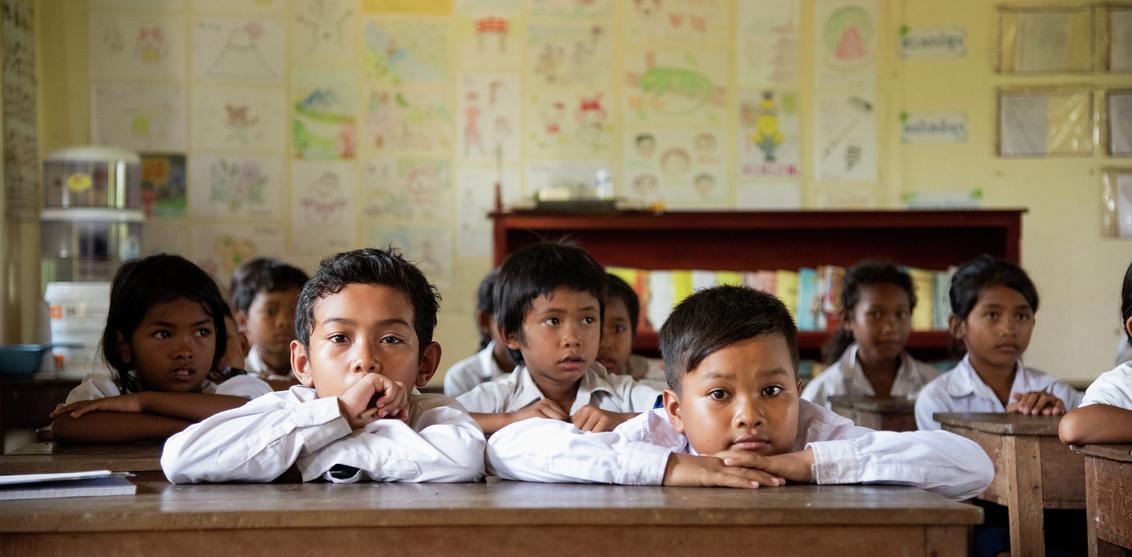 At Chror Narb Phes Komatsu Primary School, happy schoolchildren now sit at desks under a sturdy roof with solid floors beneath their feet. Reciting their lessons in unison, they learn math and writing, dreaming of growing up to be like the teachers they so admire.
"Many children's parents are farmers, which is hard work," said one of the school's teachers. "The students come to school and learn about other jobs. It opens the world to them."
Asked what they wanted to be when they grew up, the children added policemen and carpenters to the list.
Through a cultural exchange with Japanese schoolchildren, the students also experience the kindness of peers thousands of miles away. A classroom library bearing the Komatsu name is comprised of items donated by Japanese children for the school.
Helping to make life sustainable
Growing up in areas now free of the threat of landmines, these children will help shape Cambodia's future. Living with their families on redeveloped land distributed to residents free of charge through an application process, this new generation doesn't have to know the fear of trying to make a living on land that is unsafe.
"When we provide aid, we have to enable those we are adding to be self-sustainable," said Nagira. "The project is to foster people. We must do more than clear the land. We must work with the government … to make life sustainable."
For the mango farmer and her husband, the plot of land they received 10 years ago through the Battambang Province Demining and Reconstruction Project is truly special, because it's theirs.
"I'm so happy," she said. "It's a small land but I have my own. I am happy to live here."
10 years of partnership
In the past 10 years of working with CMAC and JMAS, Komatsu has helped:
reconstruct more than 10 villages in areas previously riddled with acted landmines
build 46 ponds for residential water sources
build eight primary schools that serve about 600 students
repair about 20 kilometers of roads
build more than 40 kilometers of new road
decrease area landmine accidents by 82% (2006 vs. 2016)
Redevelopment projects supported in Cambodia
Komatsu currently support three ongoing redevelopment projects in Cambodia:
Battambang Province Demining and Reconstruction Project: started in 2008
Banteay Meanchey Providence Demining and Reconstruction Project: started in 2017
Kampong Tom Providence Comprehensive Demining (Landmines & UXOs) Project: started in March 2018